Your Guide to Settlement Agreements From Our Specialist Settlement Agreement Solicitor
Settlement agreement solicitor David Greenhalgh is top-ranked and listed as a Leading Individual in the Legal 500 2023 (the main independent guide to the best lawyers in the UK).
David has over 27 years' experience of advising employees and senior executives on their settlement agreements.
If you need your settlement agreement signed off today, or if you need helping in negotiating for better settlement agreement terms, please do not delay.
Call specialist Settlement Agreement solicitor David now on 020 3603 2177 or Click Here To Make An Online Enquiry.
David specialises in advising on settlement agreements and where needed, in persuading employers to increase settlement terms.  He does so by using his 27 years' of tactical expertise together with his in-depth knowledge of how employers think.
Results Achieved for Settlement Agreement Clients
signing off settlement agreements on a same day basis to enable employees to comply with strict return deadlines set by their employers.
successfully negotiating a x10 increase in ex-gratia payment to reflect potential high value discrimination claim being waived.
getting notice pay increased to include employer pension contribution and benefits.
negotiating a positive leaving statement and wording to prevent employer from bad-mouthing client post termination.
obtaining a payment of a pro-rata bonus in excess of £75k- where bonus rules stated that no bonus would be due.
agreeing that share options that would otherwise have been lost, could vest on a pro-rata basis.
negotiating an extension of medical cover to allow the employee to continue having essential medical treatment post termination of employment.
agreeing the removal of a 12 month non-compete restriction and a 50% reduction in the length of other post termination restrictions.
Positive Feedback from Settlement Agreement Clients
"I was already happy with the terms I had been offered but only had limited time to accept.  David provided a fast turnaround service which enabled me to get same day advice and sign off"

"The Invaluable advice I got from David helped me feel in control.  He negotiated me a far better deal than was offered to me originally."

"David held my hand throughout a very messy exit and with his help I left with a large financial settlement to see me through to my next role"

"David was great on tactics. He helped me prepare for my redundancy consultation meeting which resulted in me being offered a decent exit package"
What is a settlement agreement?
A settlement agreement is a legal document drafted by your employer and offered to you to terminate your employment.  The agreement becomes binding when it is signed by the employer, you and your legal adviser.
By signing up to a settlement agreement you will be waiving any claims that you may have against your employer in return for a payment which is usually more than you would otherwise be due.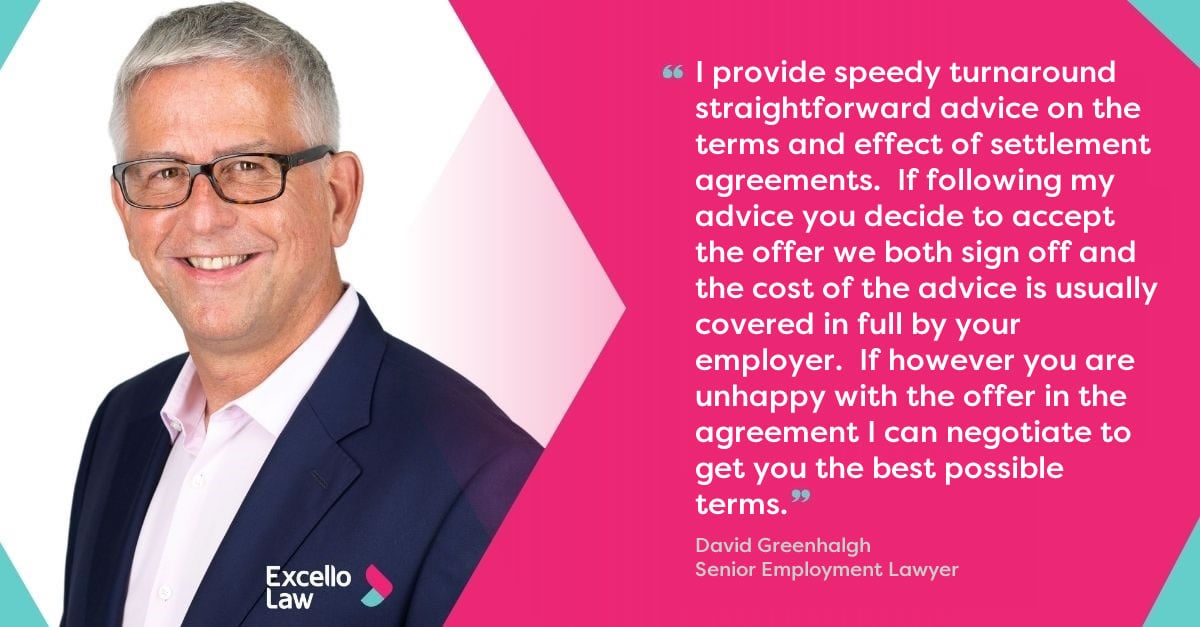 Headline terms – no settlement agreement yet?
Sometimes an employer may attempt to get you to agree to the headline terms before the employer produces the actual settlement agreement.  You should push back and ask for the offer to be incorporated into a settlement agreement to enable you to seek legal advice.  In doing so you will not be accepting the offer.
Why do you need to get independent legal advice on your settlement agreement?
To be legally binding you must have received independent legal advice on the terms and effect of the settlement agreement.  Your employer may give you a list of suggested independent legal advisers.  Some employees prefer to find their own specialist employment lawyer.
Does the employer pay for you to get legal advice?
In most cases yes, because obtaining independent legal advice is a legal requirement for a settlement agreement to be binding.  The employer will usually cover the fixed fee charged by the independent lawyer in advising you on the terms and effect only of the settlement agreement.   The employer may initially offer you a contribution to legal fees which is less than the 'going rate'.  This can usually be increased to the going rate level on request by you.
Why is getting advice on a settlement agreement so important?
Getting clear advice on what you are signing up to and what claims you may be waiving is important.  Good advice from a specialist employment lawyer will also help you to weigh up whether you want to take the offer or seek better terms/more money.  Understanding how, in general terms, compensation for any claims you may have would be calculated (if you were to successfully bring a claim) can also be helpful.
In addition to the value of the offer, there will also be a number of other important terms which you need to fully understand.  The advice you receive should cover whether such terms are standard, whether any provisions are missing and will enable you to decide whether you accept the offer or request an increase/changes.
Is the offer negotiable?
The first offer from an employer may not always be its final position but this will depend very much on the circumstances.  A request for changes/increase can be made by you or your specialist employment lawyer.  A specialist employment lawyer will generally be best placed to persuade an employer to agree to such changes/an increase.  No lawyer will be able to guarantee to achieve such changes/increase and the chances of success will depend on a number of factors.
Why should you sign a settlement agreement?
Because doing so will usually result in payment of an agreed sum which will be greater than you would otherwise receive.  Any ex-gratia payment element can usually be paid tax-free up to £30,000.  This element of the package must not relate in any way to notice pay.
When might an employer produce a settlement agreement?
Settlement agreements are commonly used to resolve the breakdown of the employment relationship or where an employer wishes to avoid going through a formal process around performance, conduct or redundancy.  These processes usually take up considerable management time which may be saved by the use of a settlement agreement.
Who decides the terms of the settlement agreement?
Whilst the employer will propose the initial terms these must be agreed with you.  It is common for employees to requests changes (through their lawyer) to the draft agreement.
How do I negotiate for better terms?
A specialist employment lawyer will be able to guide you on the best approach.  Tactics are important.  Your ability to get a better exit deal will depend on whether the offer is a good one in the first place, the extent to which you have potential claims and the extent to which you or someone else on your behalf (like an employee representative) has already negotiated terms.
What terms are negotiable?
Click here to read our guide on what settlement agreements terms can often be negotiated.
How much can I get tax free?
As above, up to £30,000 can be paid to you tax-free as compensation for loss of your employment under a settlement agreement.  This will include any statutory redundancy pay due (click here to calculate the value of your statutory redundancy pay element).
Can I get my notice pay tax free under a settlement agreement?
No, there are strict rules which require tax and national insurance deductions to be made on your notice pay.  If you have been served and worked your notice period this will need to be made clear
How do I get advice on my settlement agreement?
David Greenhalgh is a specialist employment lawyer with over 25 years of experience in advising employees on their settlement agreements.
Click here to find out more about David's experience.
For an initial discussion about how he can help you with your settlement agreement or exit please call David on 020 3603 2177 or Click here to make a free online enquiry.
"Would not hesitate in recommending David"
"Practical clear advice"

"Always at the end of the phone and very responsive"
"Personable and straight talking"
"Terrific, really got it right and helps you make the right decision"
"Unstuffy, personable and down to earth"